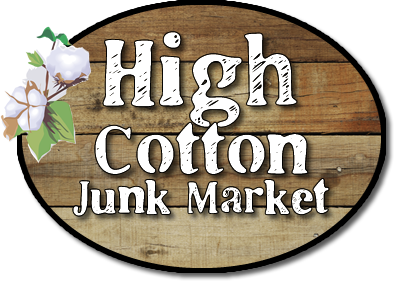 The Ringgold Feed & Seed High Cotton Market is the largest antique market in the Chattanooga area.  This event draws thousands of antique lovers and junk explorers every year.  The event is Free and parking is Free.
Started in 2014, the High Cotton Market was just a small gathering of vendors who had some extra treasures that couldn't fit inside the store and wanted to have a bit of fun selling junk in the parking lot.  Now, this event has blossomed into an outdoor antique festival with dealers from all over the Southeast along with 7500 sq feet of fun inside our store with great deals on antiques, vintage and industrial finds.  In addition, there is the Cotton Gin Antiques, which shares our parking lot located in the original Calloway Feed & Seed building.
About the Name
It is pretty simple.  We are on High Street and we were part of the Calloway Feed & Seed Cotton Gin.   So, we thought it was a fun play on words…The High Cotton Market.
Getting There
We are located at 403 High Street, Ringgold, GA  30736.
From I-75 North
Take exit 345 Hwy 41 and turn right towards Ringgold
After going under the train trestle at the Historic Ringgold Dept, turn right on Depot Street
We are at the end of the street
From I-75 South
Take exit 348, Hwy 151 and turn left towards Ringgold
Hwy 151 ends at Hwy 41 (Nashville St)
Turn Right onto Nashville St.
Travel through downtown Ringgold
Turn Left onto Depot St just before the Historic Ringgold Depot
We are at the end of the street
The 2017 schedule
Spring High Cotton Market
April 21st – 23rd
during the Spring Ringgold Junk Market
Summer High Cotton Market
June 2nd – 4th
during the Dixie Hwy 90-Mile Yard Sale
Fall High Cotton Market
September 15th-16th
during the Fall Ringgold Junk Market
High Cotton Christmas Market
November 10th-11th
How to be a Vendor
Please contact us via Facebook @ringgoldfeedandseed or send us an email to info@ringgoldfeedandseed.com.  Please send us your contact information and 5 or 6 pictures.  We allow antiques, vintage items, industrial items and handmade items for these events.
PRESS
Press Release "Announcing the November High Cotton Market" released November 1, 2017.
November 2017 High Cotton Market
Press Release "Announcing the June High Cotton Market" released May5, 2017.
June 2017 High Cotton Market
Press Release "Announcing the Spring High Cotton Market"
released February 28, 2017.
Spring 2017 High Cotton Market
High Cotton Market Photos and Logos